I am home from my week and a half long spring break vacation. Wednesday I got really sicky poo (probably from being in a bathing suit & bare-footed all day & night.) Luckily, my friend JP kindly made me chicken noodle soup & fed me my medicines with juices. Gabriel was also there to put a nice ice cold towel on my head when I got a fever. I stuck it out for the week & made some good memories while doing so. Seeing The Twelves and dancing uncontrollably was probably one of the best amongst others...


We discovered this great funky/hip-hop band, so great i danced on stage with them.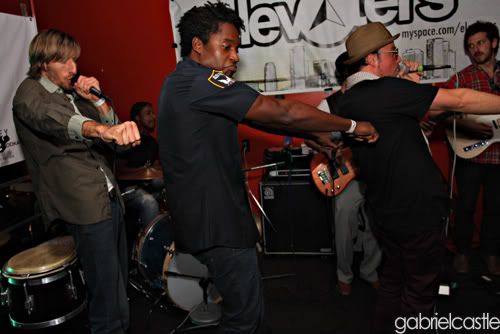 myspace.com/elevaters
Kanye showed up at Complete Clothing. But I like their bathroom better.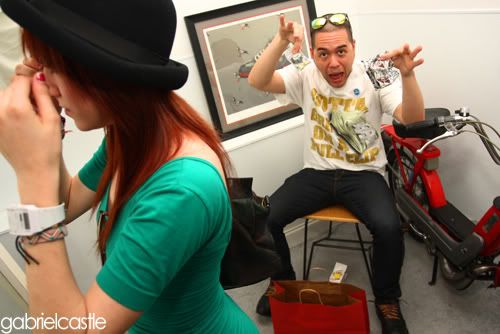 Checking myself in the mirror.
Complete Clothing Party Day #2
holla.
HEB had the sweetest staches in their quarter machines.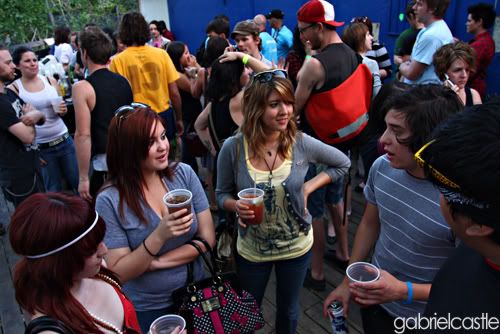 Creekside is probably one of my favorite places downtown Austin.
The NEW Monikapolitan online store design was completed during my vacation... simple, sexy & even cuter than I imagined. Patience is not on my side, I want to scream and expose the new site for all of you to see already! The launch is happening this April, no doubt. For giggles Gabriel and I made some funny flyers for you all to put as your desktop background or print out and throw darts at. If you have a sense of humor & aren't easily offended you may
click here
, right click the image and "save as desktop background." Andy Pandy was kind enough to snap some "behind the scene" action pictures during the promo shoot that took place in Austin. Some of the pictures came out too dark but the mysterious lighting grew on me....